How I Begin My Hygge Journey in 10 Minutes
No Idea Whatsoever About What Hygge Is?
Don't worry. I got your back. 😉
If you're already a Hygge fan, just skip this part and start enjoying today's blog post.
Still with me?
Ok.. awesome. Time to have fun.
What's Hygge?
It's a feeling you can't buy of safety, warmth, peace, calm, contentment, and everything in between.
Based on cosiness, togetherness, and uniqueness, it's a whole guide to craft a cosiness-based way of life for you AND your family.
To me, Hygge is like a roadmap to enjoy simple pleasure, slow down, unplug, and eventually becoming unapologetically yourself.
How can I learn more about it?
1/ Read the reviews I made at  How The Hygge Book helps me to love my own quirks
2/ Request a special invitation for #TheHyggeLounge at https://www.thehyggeplanner.com/newsletter
3/ Buy Meik Weiking's book by clicking here (Where you're buying from this link Amazon will give a percentage to WWF on your behalf. I'm not owning a penny nor a compensation by any means) 
How do you pronounce it?
Truth is, no one cares how you pronounce it as long as you can experience it day in and day out.
That said, it's commonly admitted to be [HOO-GA] .
Keep it simple and don't over complicate the process.
If you don't get it the first time, no big deal.
Is there a Hygge lifestyle?
YES!! and I mean absolutely without the shadow of a doubt.
Hygge is more than just a list of things to do or have. It's NOT a decor (see below for more infos).
If you're quiet/ introvert, chances are you're already living a Hygge lifestyle without even knowing it. Now, you can model what you're already good at to enjoy that cosy, comfy, and homey feelings 24/7.
If you're totally new and you'd love to implement that simple, decluttered, down to earth, eco friendly, and comfy way of living for your family, that's totally doable.
Truth it, it's WHY I created this entire site: to provide you the tools, the resources, and the inspiration to turn your life into a cosiness-based living without adding stress. (To get a weekly dose of cosiness-based pep talk, join #TheHyggeLounge HERE )
Where does it come from?
Hygge comes from Denmark (but the word itself comes for Norway). At some point in history, Norway and Denmark were one kingdom only.
For the records:
–  the first mention of Hygge is circa 1840 (which means Hygge is everything but a fad trends)
– Denmark is ranking on the top 3 of the happiest countries in the world every singe year!
– the tax level in Denmark is one of the highest in the world. Yet, the citizens ARE full of happiness.
—> Who doesn't want to model what the happiest people in the world are doing to be happy, content, and joyful day in and day out?  I know I do (so does my Great Grand Mother in her journals)
Is Hygge only a decor for Fall & Winter?
This is a common myth I HAVE to bust once and for all. Danish people don't stop living 6 months of the year. They enjoy and practice Hygge ALL YEAR LONG.
They just adapt what they do and how they do it. It's definitely easier to have a snow day in winter and it's definitely easier to have a BBQ outside in the middle of Summer.
Hygge is not stuck in Fall & Winter nor is a home decor.
If you want a decor, ask a professional to set up a stage… You won't feel better in a snap because you have a fireplace and tonnes of fairy lights.
If it was that simple, everyone would be happy and medication wouldn't be needed to avoid anxiety.
(If you're under medication, NEVER EVER stop without a professional help. Asking for help should be your #1 priority. There's no shame nor guilt to seek for a better health, or a better mental clarity)
You don't have to spend $$$ to revamp your living room so it looks like a country living magazine cover… and you can show off on Instagram. Hygge is NOT a popularity contest. There's no mandatory list of items to buy.
You can live Hygge in a moroccan house, a contemporary penthouse, a cottage close to the sea, a tiny house, a small apartment that looks like a boudoir, or a fancy super modern house. Hygge is what you made out of it.
Eh… you're done with the introduction.
If you want to dive deeper:
– request your invitation for #TheHyggeLounge HERE
– check our workbook to craft a cosiness-based way of life for your family in 7 days HERE
– download our 108 Done for You ideas to practice Hygge as a family (when you have no time for brainstorm) HERE
Welcome back to another Hygge Coffee Break!
Most of the time when it comes to making a long lasting change in our crazy busy lives, we (all) are reluctant. That's true, some of us are very dedicated and committed. They can look at a new way of cooking the radishes and easily become THE world expert at it.
For the rest of the humanity (let's say approximatively 99,9% of the humankind), it takes more than the willingness to make a change: it takes a plan, some time, and a lot of trials/errors.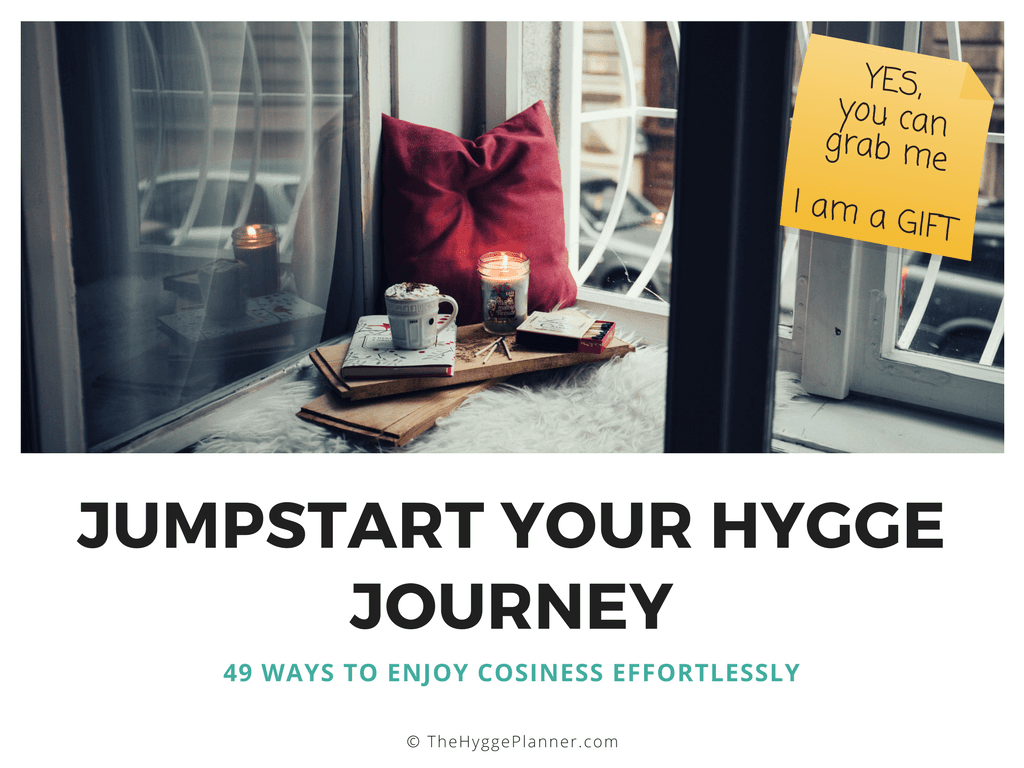 Yes, it's totally normal to go back and forth… to fall off the wagon and to go back on tracks. We should NEVER look for perfection, but we should always look for improvement. That's exactly what hygge is about.
So how the heck are we supposed to transition from an idea (living hygge) to a new habit (living hygge) without looking your sanity?
The answer is: at your own pace. Let me explain to you how to do it easily.
1/ A quick introduction about Hygge if you're a newbie
First welcome on the cosy side of the hygge force… (We all need some play words from time to time). Unlike many different ideas that flourish on the Web, Hygge is NOT a trend that will disappear in two seasons.
Hygge is a concept mainly studied by The Happiness Research Institute based in Denmark.
Why Denmark? Because it's where people are the happier on the planet.
According to their research, we can think about Happiness as a lifetime goal to reach, an ideal to master, a philosophy to learn. Hygge is more a vehicle, a toolbox, a resource you can use daily to create your own happiness.
So, basically, hygge is a mean to an end called happiness.
But, there are plenty of ways to turn a concept into a daily change or a daily routine.
That said, the first steps are always the hardest to perform.
We know we have to learn to walk before we run. Yet, how do you transition from reading The Little Book of Hygge to anything that sustains yourself and your family to live the Hygge experience? Don't worry, I got your back. I'm here to give you tips and ideas to begin your hygge journey in less than 10 minutes.
2/ Keep in mind…
There's something really appealing to me when it comes to diving into the Hygge concept: you don't have to spend thousands of dollars/ euros/ pounds… to make it works for you.
In fact, Hygge is based on feelings, not on material things. You don't HAVE to have a cashmere pullover to embrace Hygge. You don't have to spend 8000$ in a chunky handmade blanket to get an A+ on the universal hygge scale. (Don't get me wrong, if you enjoy it and you can afford it, why not… go for it, but it's not mandatory).
Hygge is about refueling your soul, recharging your battery after a long day.
It's about sharing your time with the ones you loved, it's about being free to curl up in a blanket with a cup of hot chocolate watching Sex in the City for the 9th times (or the last Masterchef Australia season while taking frantic notes).
Hygge is a way to love the simple things in our lives: a flower that blooms, a cat that meowing, a garden with veggies, the smile on the face of the unknown neighbour in the park, the smell of the coffee near your favourite coffee shop, the sound of the clock in the library…
For me, hygge is a mean, an end and everything in between as long as it screams cosiness (yes, the introvert side of my brain can scream sometimes).
3/ Now what? How should I begin?
You don't have to block 24 hours to start enjoying the benefits of hygge. Beware, if you are an introvert, you may already be a Hygge master without even knowing it. But, I digress. Let's go back to our main topic.
As soon as you have 10 min, you can enjoy a hyggelig (adjective of hygge) break. I've gathered for you a (non-exhaustive) list of activities you can do when you are short on time.
– light a candle (be very careful if you have kids, children or furry friends + open up the window after you burnt the candle to refresh the air)
– grab a cup of your favourite hot beverage in your cutest mug (it could be tea, rooibos, coffee or chocolate)
– curl up in a warm blanket (I'm crazy about my old blanket… it looks like nothing, but it's so comfy)
– doodle or draw (no, you're not supposed to turn it into an exhibition… just have fun with it)
– find inspiration on Pinterest (look for keywords like Hygge, cosiness or join our 50 boards where we curate everything around Hygge)
– write a postcard to your penpal (Who doesn't love to find anything but a bill in the mailbox?)
– open the window and look outside
– walk in your garden to see flowers
– rub your dog's belly
– listen to music (I looooovvvee hard rock, but it could be anything that put a smile on your face)
– sing (bonus point if it rains right after, it's so hygge)
If you don't have time to take notes, hop on the box just below and download the entire list of "what to do in 10 minutes to jumpstart your hygge journey" + a list of activities to do when you have 20 minutes or more than 30 minutes

It's time to wrap up!
Taking the first step is always challenging (and something it's overwhelming as well). We feel powerless when it comes to turning a concept like Hygge into a reality in our crazy busy lives.
Don't be ashamed to start small, have fun with quick activities that release stress and improve your mood. As soon as you can sparkle hygge activities throughout your week, you'll become addicted to them.
You can find inspiration with the list we created for you (and grab your free cheat sheet at the same time) or you can visit us on Pinterest at http://www.pinterest.com/thehyggeplanner
Remember that your journey is unique, personal and it won't look like mine as well.
Stay true to what inspires you to feel cosy. Until our next coffee talk, love slow life, live hygge.
PS: Sharing is caring. If you know someone who could enjoy this article, you're welcome to forward it and to share it on social media.
Tips are always appreciated but never mandatory. Share your love for The Hygge Planner, visit 👇🏻
✨Goodies you're too smart to miss✨