Welcome back to another Coffe Break!
During my last holiday (you know Summer… long days sipping homemade iced tea with a slice of lemon while reading a new book), I've frantically written dozens of ideas to make our Coffee Talk hyggelig-er. I'm not sure if we can add "-er" at the end of hyggelig but you get my drift.
So, here we are… After a month of September to reorganize the basics, I'm finally ready to introduce you our first themed blog post inspired by The Little Book of Hygge written by Meik Wiking. (If you're not familiar with this book, you can read my review HERE or look at the sidebar to buy your own copy on Amazon)  

October is all about CHESTNUTS…
Honestly, I scratched my head for a while because I'm not a huge huge fan of chestnuts products like marron glacé, chestnut puree, or chestnut in a crockpot.
Nevertheless, there IS a way I'm totally in love with chestnuts: the most simple & easy way to enjoy it: Roasted
1/ 
Why we should be nuts about chestnuts…
Disclaimer: I'm not a dietician nor a health specialist. So, please ask a professional or a physician before eating chestnut or derived products (especially if you're having any health condition, you're under medication or any other situation that requires any kind of health surveillance)
http://www.nutrition-and-you.com/chestnuts.html
Chestnuts belong to the great Nut family like hazelnut, cashew, almonds.. AND they are lower in calories and fat —> which is always great when you are looking at your cholesterol
Chestnuts are full of minerals, vitamins plus it's a good source of quality proteins. It's particularly loaded with:
Vitamin C

Folates

Vitamins B (a huge family in itself)

Potassium
What I also love about chestnuts, they are naturally Gluten Free. Woot woot!!
2/
Two ways to make roasted chestnuts
I had a lot of fun looking all around the web to find yummy recipes (and easy) for the roasted chestnuts. I have to admit that I try to share only my recipes but I have so few track records on how to cook these nuts…. So I hunt for the safest, hyggelig, simple versions of recipes.
Personal Note: I tried the first one and let me tell you that I had the hyggelig moment possible. Just be careful when you use the knife to make a cross in the "skin" and you'll be fine.
Where you can find them
It's pretty easy to find chestnuts almost everywhere from October to March with a pretty decent peak in December. Maybe it's the reason why marron glacé is so popular around Christmas.
Most of the time, I find mine:
at the grocery store

at my local organic market

in the forest (be sure you have the right to pick them)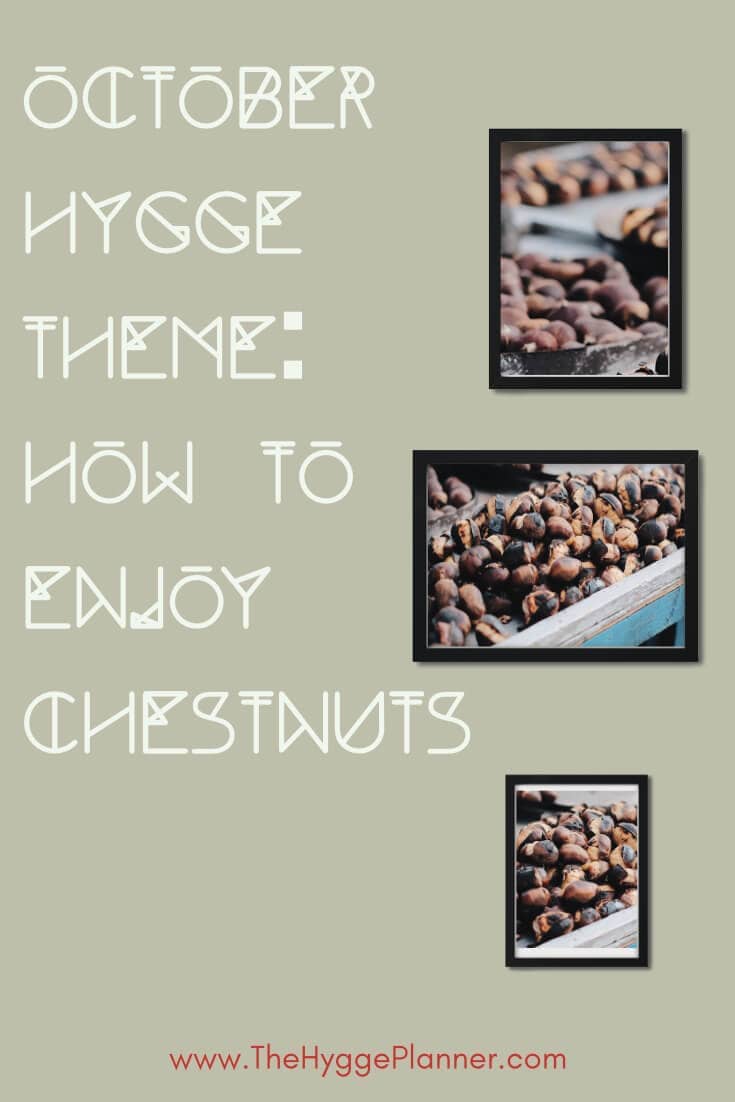 It's time to wrap up!
This is our first monthly themed blog post and it's around the yummy chestnuts!
I shared with you some nutrition facts that will help you to (re)discover how amazing these little nuts are plus two simple recipes to roast your chestnuts.
You've enjoyed our last Coffee Talk? You can share it with your friends on social media, pin the images or subscribe to our waiting list to get exclusive access and a chance to receive more freebies all year long.
See you on our next Coffee Talk! Until then, keep it hygge!