How to customise your boring notebook into a unique tool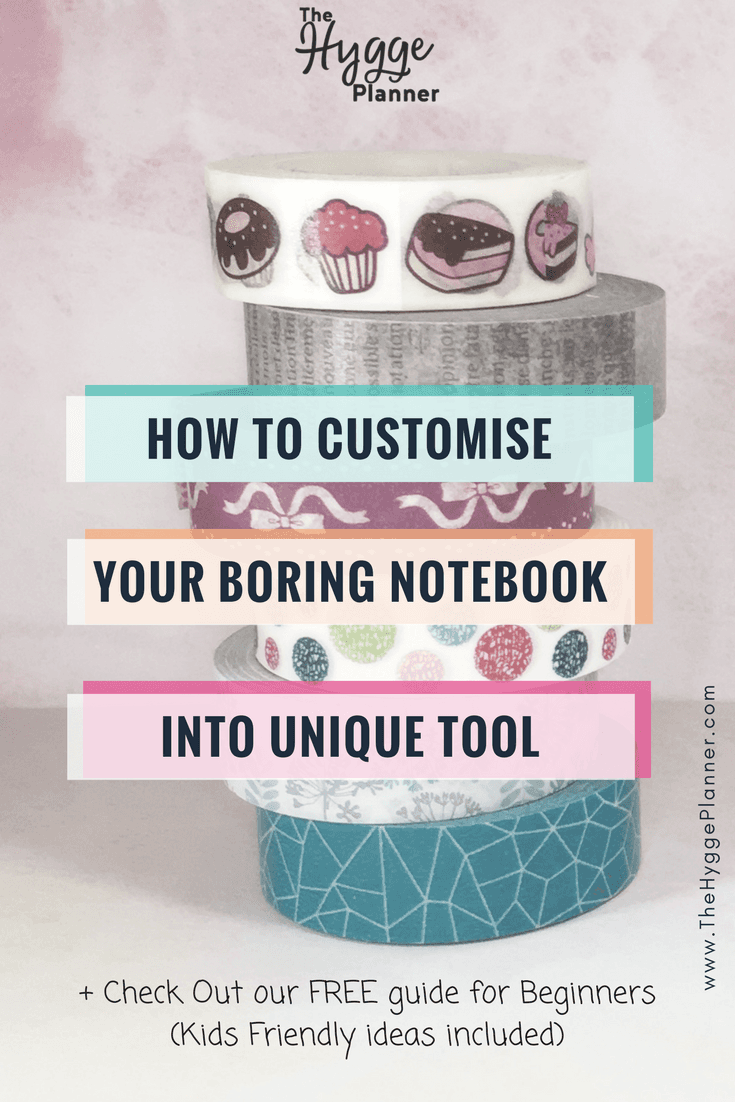 No Idea Whatsoever About What Hygge Is?
Don't worry. I got your back. 😉
If you're already a Hygge fan, just skip this part and start enjoying today's blog post.
Still with me?
Ok.. awesome. Time to have fun.
What's Hygge?
It's a feeling you can't buy of safety, warmth, peace, calm, contentment, and everything in between.
Based on cosiness, togetherness, and uniqueness, it's a whole guide to craft a cosiness-based way of life for you AND your family.
To me, Hygge is like a roadmap to enjoy simple pleasure, slow down, unplug, and eventually becoming unapologetically yourself.
How can I learn more about it?
1/ Read the reviews I made at  How The Hygge Book helps me to love my own quirks
2/ Request a special invitation for #TheHyggeLounge at https://www.thehyggeplanner.com/newsletter
3/ Buy Meik Weiking's book by clicking here (Where you're buying from this link Amazon will give a percentage to WWF on your behalf. I'm not owning a penny nor a compensation by any means) 
How do you pronounce it?
Truth is, no one cares how you pronounce it as long as you can experience it day in and day out.
That said, it's commonly admitted to be [HOO-GA] .
Keep it simple and don't over complicate the process.
If you don't get it the first time, no big deal.
Is there a Hygge lifestyle?
YES!! and I mean absolutely without the shadow of a doubt.
Hygge is more than just a list of things to do or have. It's NOT a decor (see below for more infos).
If you're quiet/ introvert, chances are you're already living a Hygge lifestyle without even knowing it. Now, you can model what you're already good at to enjoy that cosy, comfy, and homey feelings 24/7.
If you're totally new and you'd love to implement that simple, decluttered, down to earth, eco friendly, and comfy way of living for your family, that's totally doable.
Truth it, it's WHY I created this entire site: to provide you the tools, the resources, and the inspiration to turn your life into a cosiness-based living without adding stress. (To get a weekly dose of cosiness-based pep talk, join #TheHyggeLounge HERE )
Where does it come from?
Hygge comes from Denmark (but the word itself comes for Norway). At some point in history, Norway and Denmark were one kingdom only.
For the records:
–  the first mention of Hygge is circa 1840 (which means Hygge is everything but a fad trends)
– Denmark is ranking on the top 3 of the happiest countries in the world every singe year!
– the tax level in Denmark is one of the highest in the world. Yet, the citizens ARE full of happiness.
—> Who doesn't want to model what the happiest people in the world are doing to be happy, content, and joyful day in and day out?  I know I do (so does my Great Grand Mother in her journals)
Is Hygge only a decor for Fall & Winter?
This is a common myth I HAVE to bust once and for all. Danish people don't stop living 6 months of the year. They enjoy and practice Hygge ALL YEAR LONG.
They just adapt what they do and how they do it. It's definitely easier to have a snow day in winter and it's definitely easier to have a BBQ outside in the middle of Summer.
Hygge is not stuck in Fall & Winter nor is a home decor.
If you want a decor, ask a professional to set up a stage… You won't feel better in a snap because you have a fireplace and tonnes of fairy lights.
If it was that simple, everyone would be happy and medication wouldn't be needed to avoid anxiety.
(If you're under medication, NEVER EVER stop without a professional help. Asking for help should be your #1 priority. There's no shame nor guilt to seek for a better health, or a better mental clarity)
You don't have to spend $$$ to revamp your living room so it looks like a country living magazine cover… and you can show off on Instagram. Hygge is NOT a popularity contest. There's no mandatory list of items to buy.
You can live Hygge in a moroccan house, a contemporary penthouse, a cottage close to the sea, a tiny house, a small apartment that looks like a boudoir, or a fancy super modern house. Hygge is what you made out of it.
Eh… you're done with the introduction.
If you want to dive deeper:
– request your invitation for #TheHyggeLounge HERE
– check our workbook to craft a cosiness-based way of life for your family in 7 days HERE
– download our 108 Done for You ideas to practice Hygge as a family (when you have no time for brainstorm) HERE
Hopefully, you are now intrigued enough to jump into a new Hygge Coffee break.  Fasten your seatbelt; we are entering into the washi tape zone where you'll be delighted by cute colours, kawaii accessories, funny ideas and tonnes of DIY projects to do with your small humans (also named children, kids, grandchildren, great grandchildren,…)
At that point, you may wonder "What is she talking about?" "What are these washi tapes?" I get it! Let me introduce you, my dear washi friends.
Washi Tapes 101
Nope, it's not a new sushi that only hype London restaurants have on the menu. It's not a new workout to perform only during waxing moon surrounded by pink unicorns.
Washi Tapes are very versatile scotch that you can use on a lot of surfaces like phone cases, desktops,  notebooks, pens, paper clips, clothespins, canva, pencils, book cover, cardboards, aluminium, glass, wood (but not all types of woods)…  Sometimes, they are called masking tape or rice paper scotch (basically, it's the exact same product).
Washi Tapes are available in different formats from tiny to thick height, from small length to long length. Read the description carefully when you buy some of them, you don't want to see the end of the roll before you're done with your DIY project.
You can find Washi Tapes online:
– at Staples: http://www.staples.com/washi+tapes/directory_washi%2520tapes?
– at Amazon.com: https://www.amazon.com/s/ref=nb_sb_noss?url=search-alias%3Daps&field-keywords=washi+tapes
– at Kawaii Pen Shop (I lovvvvee that online shop): https://kawaiipenshop.com/search?q=washi+tapes
– at Lili's: http://www.lilis.fr/en/47-masking-tape
– at Alibaba (only if you are ready to buy a huge amount of washi tape, read carefully how it works BEFORE placing an order): 
Of course, there are a billion places where you can find those amazing tapes. You can go girly or soft, jump into the unicorns world… Choose them to meet your wishes (and the best point is: most of the time, washi tapes don't cost an arm and a leg).
5 ideas to turn your new washi tapes into craft projects
Warning: Even if washi tapes are cuttable using only your hands, it's more precise if you use scissors. It means that you have to be very careful if you're trying those projects with your little ones. Please NEVER let scissors or sharp utensils without supervision.
If you want to see how I did it live, just watch the video below. You'll find how I decorate:
1/ Candles & Lights decoration
2/ Bookmarks
3/ Tabs
4/ Pens & Pencils
5/ Stickers (a little bit more advanced)
Watch the Washi Workshop I hosted earlier this week to grab ideas and suggestions.
3 Fun Tips to become a Washi Master instantly
1/ Play with colours
Colours are a major source of interest… No matter if you play with colours for craft only or if you use colours for your small business.
In that last case, you HAVE to be very careful about what colours you'd like to use, what kind of palette you should put together. Why? Because colours share emotions. They trigger feelings; they are the starting point of something bigger. Colours make us feel at ease, or they hurt us.
Let me share you a story. When I was making my PhD in Montreal, I was supervising exams to earn enough to live each month. There was an old classroom painted in flash orange. Yes, THAT type of 70's orange (even the seats were orange). I was totally in love with that classroom, it energised me, and I felt so pumped each time. But, most of the students HATED it. The point is: the perception of colours differs from one person to the other.
If you are entirely new to colours and you don't really know how to organise them to create a cute mix, you can take a look at:
– https://www.design-seeds.com/ (you can play around and grasp inspiration)
– Pinterest (search colour palette or visit one of my board: https://uk.pinterest.com/opheliebottin/color-palette-for-event-planning/)
Please, keep in mind that the rule of thumb remains the same: choose what YOU love, not what you are supposed to choose.
2/ Play with the patterns
Patterns, really? Totally! Washi Tapes have unusual patterns: spirals, cakes, owls, triangles, candles, flowers, sun, polka dots (you name it… they got it)
So, don't limit yourself to plain old patterns (unless you love it). Be creative and test how it may look on your next project. You can even go crazy and look for very kawaii, silver, or gold patterns.
3/ Less is more
If you are not sure about which kind of DIY projects would be fun for you to try, begin with something really simple like creating the bookmark. Scroll up to find the "recipe."
You can even have fun with the different width. I love the large width and the slight width; it adds so much rhythm and contrast
It's time to wrap up!
Washi Tapes are so versatile. You can quickly change a cheap notebook into a unique smash book or create a diary for your girl or customise a notebook for your boy's football practice…. The sky is the limit!
Feel free to experiment, to try, to have fun with those little tapes. If you need more inspiration on how to turn those washi tapes into daily creative ideas, you can download our complimentary gift: 15 ideas to have fun with washi tapes (and yep, it's kids friendly as well).
Until our next coffee break, remember it's more than just cosiness: it's hygge!
Tips are always appreciated but never mandatory. Share your love for The Hygge Planner, visit 👇🏻
✨Goodies you're too smart to miss✨